In case you've been living under a rock, Farmhouse decor is having a major moment.  And I have fully jumped on the black and white, buffalo check, galvanized metal bandwagon.  Thank you, Joanna!  But, how can you add Farmhouse style to your space without breaking the bank?  And, what Joanna Gaines-approved decor pieces should you look for?  Read on for a breakdown of essential farmhouse items and where to find farmhouse decor for cheap!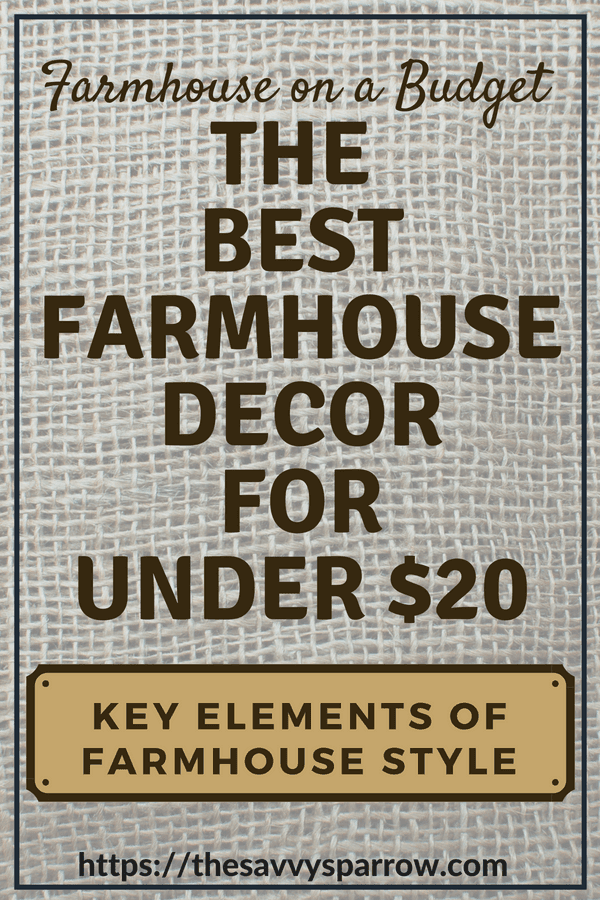 *This post contains affiliate links, which means I may earn a small commission from these links at no additional cost to you.  Read my full disclosure here.
The Best Farmhouse Decor for Cheap
Galvanized Metal Buckets and Decor
Once just for the garden shed, galvanized metal is now making its way indoors.  Grab a big ol' galvanized bucket to store your kids toys or a small one to catch little knick-knacks like remotes or toothbrushes.  Or, plant some faux succulents or fresh herbs in galvanized metal pots for instant rustic charm.
My favorite way to use galvanized metal buckets is to store my daughters' toothbrushes, toothpaste, and hairbrushes on the bathroom sink.  Since the buckets are galvanized the toothpaste splatters are camouflaged until I can get the time to clean!  Here's a great choice that would be perfect for storing bathroom knick-knacks or even planting an indoor herb garden:


Greenery and Cotton
Farmhouse style is all about casual comfort and bringing the outdoors in, and what better way to do that than adding some natural textures.  Grab some faux succulents or boxwood for a bright pop of color against your otherwise neutral farmhouse backdrop.  Or, incorporate some cotton stems into wall vases or wreaths for a soft and muted feel.
If you're feeling extra crafty, turn these boxwood stems into a DIY farmhouse wreath, or buy a pre-made farmhouse wreath to greet your guests in true farmhouse decor form!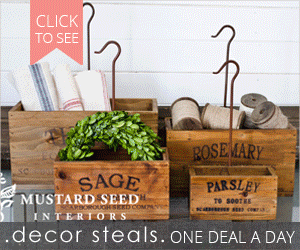 Mason Jars for Everything
Farmhouse style is all about casual, rustic, and repurposed.  And mason jars are just that!  Not just for canning Grandma's tomatoes, mason jars are making a major comeback in the form of soap dispensers, wall-mounted storage containers, and even lighting fixtures.  Grab an easy already-repurposed-for-you version or try your hand at a DIY.
Chicken Wire – Not Just for the Coop
Wrangle your mail and knick-knacks not just your chickens.  Incorporate chicken wire accented decor and functional pieces into your farmhouse style for another unexpected element of texture and rustic beauty.  Check out this chicken wire farmhouse decor for cheap, and remember all of these items are under $20!

Rustic Signs in Modern Fonts
Create a personalized space by picking out rustic signs that speak to you.  Signs with clever or funny sayings or quotes are a good way to interject humor into your farmhouse decor for cheap.  Or, put your faith on display with bible verse signs.  Just be careful not to crowd a wall with too many wordy art pieces.  One to three signs per wall is a good rule of thumb.
Buffalo Check
I'm sure you've heard that mixing black and brown is a no-no.  Sure, this rule may apply to fashion, but when it comes to farmhouse decor for cheap, black and brown play well together.  Just ask Joanna Gaines.  She fearlessly mixes bold black and white buffalo check patterns with brown tones in wood decor pieces.  Incorporate buffalo check into your farmhouse space in the form of throw pillows, plush blankets, curtains, and accent rugs for coziness that screams modern and cool lumberjack.
Burlap
Decorating with burlap is another great way to incorporate rustic and primitive texture into your farmhouse decor for cheap.  Burlap is a super thrifty fabric and it can easily be crafted into wreaths, table runners, pillow covers, and fun art pieces.  Living in Wyoming, we had plenty of burlap sacks laying around (our horse feed came packaged in cute fabric bags that just begged to be repurposed).  A metal wreath form and a good pair of scissors was all it took to make a modern farmhouse burlap wreath!
Don't want to DIY your burlap decor?  Check out these options, all under $20!
Farmhouse Clocks (Not Under $20!)
Farmhouse decor is all about celebrating the past and a simpler time.  And nothing says primitive like an actual clock.  You know, the kind with hour and minute hands.  The ones that you actually have to read, instead of just asking Alexa what time it is.  Pick an oversized wall clock to give a large wall some farmhouse charm, or accessorize your hallway with one that is made to hang away from the wall.  Look for clocks that also incorporate other farmhouse decor elements like rustic wood, windmills, or galvanized metals.
Are you absolutely ga-ga over the Farmhouse style too?  Add some of these cute and rustic elements into your decor for a cool modern farmhouse look without going broke.
The Best Site for Farmhouse Decor for Cheap – You've Probably Never Heard of it!
If you want loads of daily farmhouse decor for cheap delivered to your inbox, be sure to check out my absolute favorite daily deal site.  Move over Groupon, Decor Steals is the ultimate daily deals site for everything farmhouse!  They post a brand new deal every single day at 10am, plus two bonus deals.  Check them out here for rustic farmhouse decor that you can't find anywhere else!  And be sure to get on the email list so you don't miss a single daily deal!
Related Posts: